Application of HengXin Induction Heating Machine
2004-6-4 From: Local Views
Applications of HengXin Induction Heating Machines

:There are 2 important parameters of Induction Heating Machine:one is the ouput power, anotheris the ouput vibrated frequency.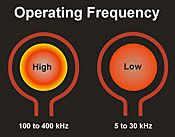 The higher the frequency, the thinner the heating penetration. So it is important to select the frequency of the machine according to the heating desire to achieve best heating effect.
The output power decide the heating speed, so power is selected according to the weight of the parts and the heating temperature and the heating speed desired.

:HengXin Induction Heating Machines' applications have been used in huge area.They are very credible and Efficiency.
Applications: The heat treatment like metal anneal, diathermanous shaping, high frequency quenching,metal high frequency jointing, medium smelting, high frequency soldering and brazing, heat smearing, heat plastic encapsulation etc.
| | |
| --- | --- |
| skin-deep smithing | shears quenching |
| hardware anneal | muzzle face quenching |
| steel tube welding | horniness metal welding |
| edge plane welding | mould heat treatment |
| bolt head heat treatment | bolt heat treatment |
| | |
| --- | --- |
| sawtooth heating treatment | bottle welding & quenching |
| wheel secant welding | canal heating |
| tool heat treatment | macromolecule leaching molding |
| golf head heating | multiple pan welding |
| falchion heat treatment | falchiong weld treatment |
| | |
| --- | --- |
| hardware quenching | gear quenching |
| stainless steel anneal | melting |
| gold melting | noble metal melting |
| heat soldering and brazing | bottle edge healing |
| dentifrice shell healing | sticks heating |
| bolt heating | aluminium sticks heating |
| | |
| --- | --- |
| roller heating | tong jointing |
| copper jointing | copper canal jointing |
| copper canal anneal | winch quenching |
| auto hardware anneal | muzzle face quenching |
| heating pipe jointing | saw blade jointing |
| | |
| --- | --- |
| bits jointing | rivet heating |
| falchion edge quenching | Aluminum-Plastic pipe heating |
| clutch quenching | diamond saw jointing |
| gear quenching | SCARFING mouth brazing |
| magnetic motor coil heat | Bar heating |
| | |
| --- | --- |
| Bar heating | 35*35 tool welding |
| 220MM Cutter knife brazing | saw welding |
| | |
| --- | --- |
| Welding composite wok | copper welding |
| Tool welding | Heating |